IOIA Organic Crop Inspection Training 2022 (Online)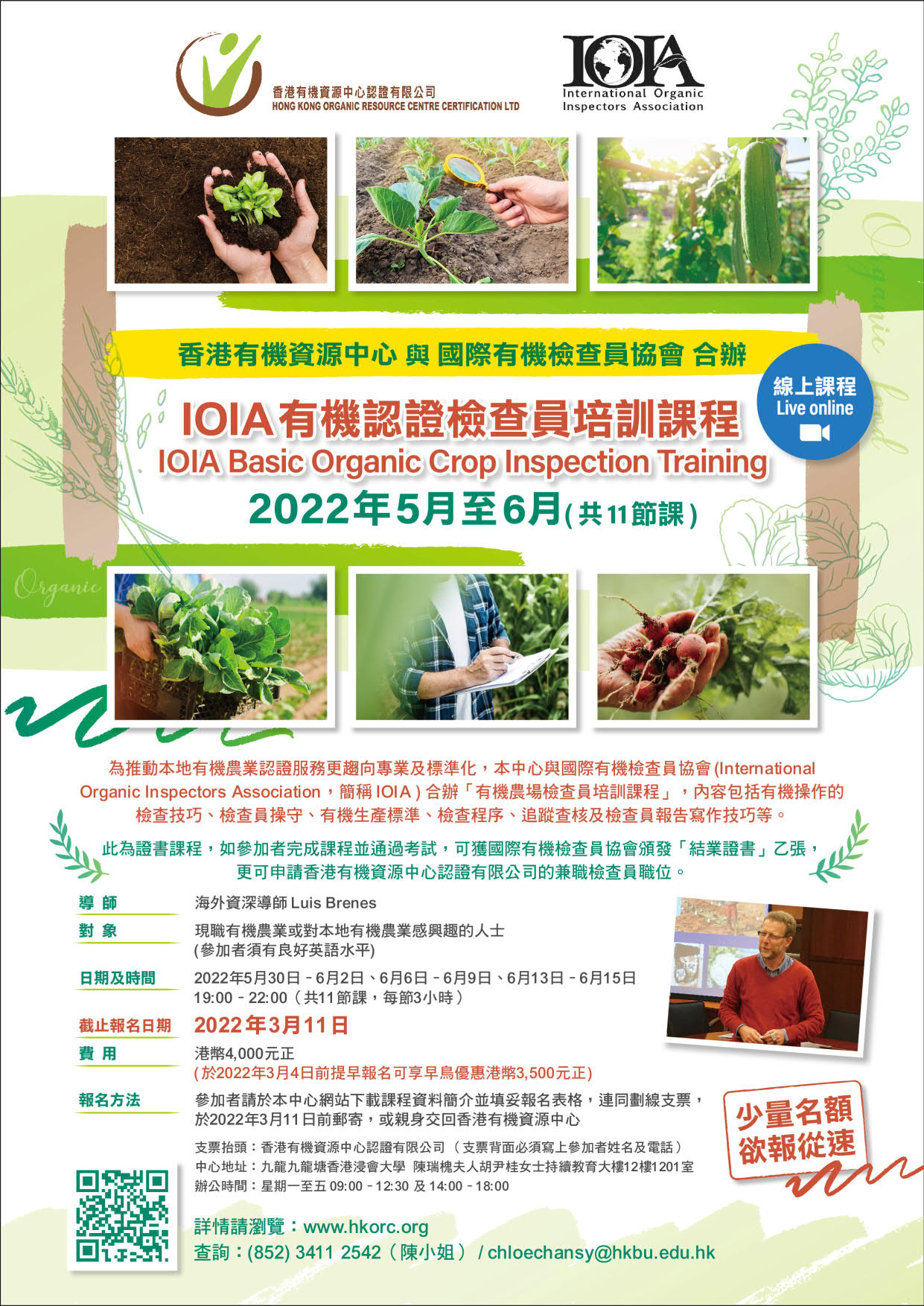 Background
In order to advocate the local organic certification services for Crop industry to become more professional and standardization. The Centre and the International Organic Inspectors Association (International Organic Inspectors Association, referred IOIA) co-organized the programme of "Organic Crop Inspection Training" in May – June 2022. Interested parties with relevant qualifications are welcome to register.
Course Information
The course includes but not limited to inspection skills of organic operation, code of conduct of inspector, inspection procedures, audit trail, report writing skills and etc. In addition the courses are conducted by the senior tutor from IOIA. The whole course will be conducted online. Regarding to the internationally recognized curriculum, participants who completed the course and pass the exam are eligible to apply the part-time inspector's job from HKORC, and even have the opportunity to overseas or other relevant international organic certification bodies as inspectors.
Dates and Venues
Basic Organic Crop Inspection Training
Application deadline:  11 March 2022
Date: 30 – 31 May, 1 – 2 June, 6 – 9 June, 13 -15 June 2022 (11 sections, 3 hours each)
Method: Online
Course fee: 4,000 HKD (Application received on or before 4 March 2022 could have an early bird discount at 3,500 HKD)
(Please make the cheque payable to "Hong Kong Organic Resource Centre Certification Ltd.")
Application: Please download the application form via HKORC website (http://www.hkorc.org/) and post the application form, your resume and course fee (by cheque) to "Rm 1201, Madam Chan Wu Wan Kwai School of Continuing Education Tower, Baptist University Road Campus, Hong Kong Baptist University, Kowloon Tong, Kowloon".
For more information about the course content or application, please contact our staff via email to chloechansy@hkbu.edu.hk or call at 3411 2542.