"Hong Kong Organic Resource Centre Certification Limited" (abbreviated as "HKORC-Cert") is an independent incorporated certification agent managed by "Hong Kong Organic Resource Centre" (abbreviated as "HKORC").
The ORC-Cert is comprised of Board of Directors, Executive Committee, Certification Board, The Standard Board and Office Staff. Members of the Board of Directors come from HKORC Governing Board. The Board is responsible for reviewing and approving the organic standards and certification system formulated or revised by the Standard Board and the Certification Board. It also serves as the body for final appeal of certification decisions.
The Certification Board is consisted of farmer, retailers, environmentalists/ scientists, consumers, government, worthy personages and HKORC co-organizers. The Board is responsible for the formulation or revision of the certification system applicable to Hong Kong. Furthermore, the Certification Board, based on the 'ORC Cert-Organic Production and Processing Standard', assesses organic farming and processing operations for conformance with the standard and makes decisions about their certification status.
The Executive Committee is made up of a representative from each of the 3 HKORC co-organizers. It is responsible for managing ORC-Cert staff to execute the entire system.Board of DirectorsAdjudication GroupAppeal GroupExecutive CommitteeCentre DirectorCertification BoardStandard BoardCrop and Aquaculture Certification BoardProcessing and handling CertificationCrop and ProcessingAquaculture StandardHong Kong Organic Resource Centre Certification Ltd.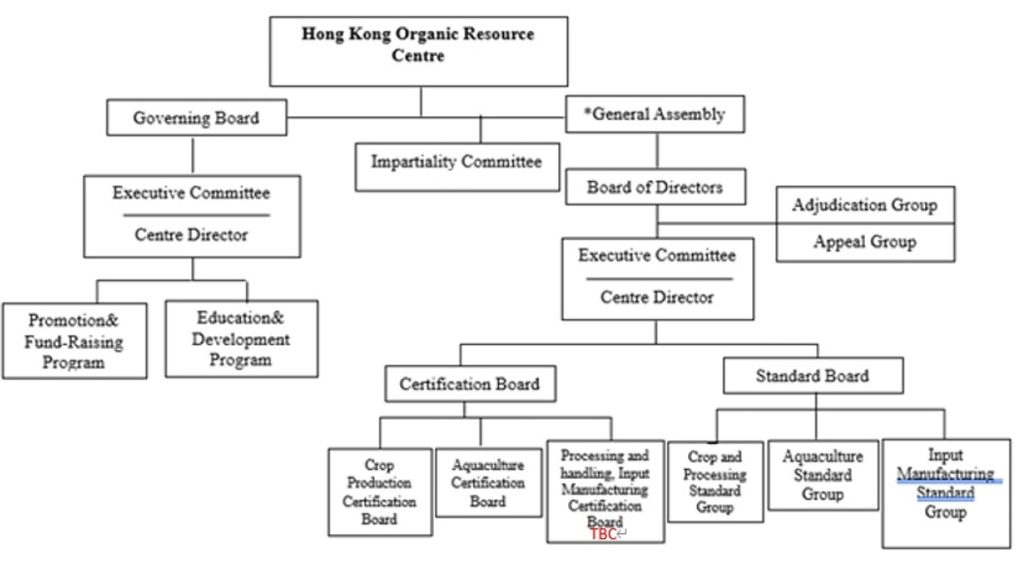 Board Members List
(as at 21 Aug 2023)
監督委員會
Governing Board
姓名Name
組別Category
機構Organization
職銜Position
主席Chairperson
劉勵超先生
Mr. Patrick LAU Lai Chiu , SBS JP
社會賢達
Worthy Personage
N/A
退休人士 (地政總署前署長)
Retired (Former Director of Lands)
委員Members
區家傑先生
Mr. AU Ka Kit
政府代表
Government
魚類/蔬菜統營處
Fish / Vegetable Marketing Organization
總經理
General Manager
鄭鳳敏女士
Ms. Yvonne CHANG Fung Man
消費者
Consumer
天然生活市場推廣及公關有限公司
Go Natural Marketing & PR Company Ltd.
總經理
General Manager
車慧蘭女士
Ms. Yolanda CHE Wai Lan
加工業
Handler/ Processor
康泉健康食品
Welspring Co. Ltd.
董事
Director
卓鳳婷女士
Ms. Phyllis CHEUK Fung Ting
加工業
Handler/ Processor
點點綠有限公司
Green dot dot.com Ltd
執行董事
Executive Director & CEO
方麗影博士
Dr. Vicki FONG Lai Ying
科學家/環保人士
Scientist/
Environmentalist
食品創新、技術與安全中心
Hong Kong Food Innovation
Tech and Safety Centre 
食品項目總監
Food Project Director
何兆桓先生
Mr. Allen HO
社會賢達
Worthy Personage
李錦記國際控股有限公司
Lee Kum Kee International Holdings Ltd.
首席技術顧問 
Senior Technical Consultant
何漢威先生
Mr. Angus HO Hon Wai
科學家/環保人士
Scientist/
Environmentalist
綠領行動
Greeners Action
總幹事
Executive Director
孔慶玲女士
Ms. Catherine HUNG Hing Ling
消費者代表
Consumer/ Public Interest
信仰探討中心
Centre for the Re-search of Faith
秘書
Secretary
高照成先生
Mr. Duncan KO Chiu Shing
加工業
Handler/ Processor
源生坊
Health Aims
董事
Director
歐永榮先生
Mr. Kenneth AU
加工業
Handler/ Processor
創之杰集團有限公司
Life Is For Excellence Ltd.
董事
Director
古嫣琪太平紳士MH
Ms. Kay KU Yin Kay, MH JP
社會賢達
Worthy Personage
N/A
退休人士
Retired
郭志泰先生
Mr. KWOK Chi Tai
消費者代表
Consumer/ Public Interest
可觀自然教育中心暨天文館
Ho Koon Nature Education Cum Astronomical Centre
校長
Principal
郭良湘先生
Mr. KWOK Leung Heung
農民/生產者
Farmer/Grower
本地菜園
Local Produce
負責人
Owner
黎樹祥先生
Mr. S.C. LAI
水產養殖農民/生產者
Aquaculture Farmer / Grower
新界養魚協進會
Hong Kong New Territories Fish Culture Association
理事長
Chairman
劉信信博士
Dr. Sam S.S. LAU
科學家/環保人士
Scientist/
Environmentalist
香港浸會大學
School of Continuing Education, HKBU
國際學院首席講師
Principal Lecturer
黃家興教授
Prof. WONG Ka Hing
科學家/環保人士
Scientist/
Environmentalist
香港理工大學
The Hong Kong Polytechnic University
教授
Professor
曾柱光先生
Mr. TSANG Chu Kwong
農民/生產者
Farmer/Grower
新界蔬菜產銷合作社有限責任聯合總社
第一副理事長
First Vice Chairman
葛珮帆議員
Ms. Elizabeth QUAT Pui Fan, BBS JP
社會賢達
Worthy Personage
立法會
Legislative Council of the HKSAR
立法會議員
Legco Member
黃譚智媛教授太平紳士
Hon Prof. Vivian TAAM WONG Chi Woon, JP
社會賢達
Worthy Personage
香港大學
The University of Hong Kong
School of Chinese Medicine
榮譽教授
Honorary Professor
認證委員會
Certification Board
姓名Name
組別Category
機構Organization
職銜Position
主席Chairperson
黃煥忠教授
Prof. Jonathan W.C. Wong BBS MH JP
執行委員會/科學家
Executive Committee/Scientist
香港浸會大學生物學系
Hong Kong Baptist University
Department of Biology
教授
Professor
委員Members
張劉麗賢女士
Ms. Becky CHEUNG LAU Lai Yin
加工業及零售業
Handler/Processor
德信顧問公司
Best Key Consultants
行政總裁
Chief Executive Officer
蔡松烈博士
Dr. CHOI Chung Lit
科學家 / 環保人士
Scientist / Environmentalist
神農醫藥科技有限公司
PlantaRx Limited
董事
Director
鍾潔珍女士
Ms. Rosaline CHUNG Kit Chun
消費者
Consumer
 
退休人士
Retired
趙允元女士
Ms. Alice CHIU Wan Yuen
政府代表
Government Representative
漁農自然護理署
Agriculture, Fisheries and Conservation Department of Hong Kong
高級農業主任(作物發展)
Senior Agriculture Officer (Crop Development)
文嘉敏女士
Dr. Carmen MAN Ka Mun
科學家 / 環保人士
Scientist / Environmentalist
香港高等教育科技學院
Technological and Higher Education Institute of Hong Kong
講師
Lecturer
周婉雯女士
Ms. Yolanda CHOW
加工業及零售業
Handler/Processor
豐泰農產品有限公司
Rich Harvest Agricultural Produce Limited
營運總監
Chief Operating Officer
王柏源博士
Dr. Leslie WONG Pak Yuen
社會賢達
Worthy Personage
香港食品委員會
Hong Kong Food Council
副主席
Vice Chairman
王政先生
Mr. Dominic WONG
加工業及零售業
Handler/Processor
廣賢堂
東主
Proprietor
袁仲安先生
Mr. Leo YUEN Chung On
社會賢達
Worthy Personage 
香港食品科技協會創會
Hong Kong Food Science and Technology Association Limited
會長
President
張浩博士
Dr. Allen ZHANG
科學家 / 環保人士
Scientist / Environmentalist
香港高等教育科技學院 環境及設計學院 環境學系
Technological and Higher Education Institute of Hong Kong
School of Environment and Design
Horticulture, Arboriculture and Landscape Management
助理教授
Associate Professor
郭穎軒博士*
Dr. Kevin KWOK Wing Hin
科學家 / 環保人士
Scientist / Environmentalist
香港理工大學食品科學及營養系
Department of Food Science and Nutrition
助理教授
Associate Professor
鄭和榮博士*
Dr. CHENG Wo Wing
科學家 / 環保人士
Scientist/Environmentalist
愉富農科
Smart Farming
高級顧問
Senior Consultant

*Only for aquaculture and processing Certification Board
標準委員會
 Standard Board 
姓名Name
組別Category
機構Organization
職銜Position
作物生產及加工處理小組 Crop and Processing Standard Group
主席Chairperson
Vacant
 
 
 
委員Members
馮志輝先生
Mr. FUNG Chi Fai
農民/生產者
Farmer/ Grower
豐盛有機農莊
Fruitful Organic Farm
東主
Proprietor
梁愛群女士
 
 
退休公務員
Retired civil servant
黃家興教授
Prof. WONG Ka Hing
科學家 / 環保人士
Scientist / Environmentalist
香港理工大學應用生物及化學科技學系
Department of Applied Biology and Chemical Technology
教授
Professor
文佩兒女士
Ms. Emma MAN Pui Yee
農民 /生產者
Farmer/ Grower
新界蔬菜產銷合作社有限責任聯合總社
Federation of Vegetables Marketing Co-operative Societies
行政經理
Executive Manager
陳栢園先生
Mr. Edward CHAN Pak Yuen
農民/生產者
Farmer/ Grower
先達農業科技顧問有限公司
Chintek Agro Consultant Limited
總經理
Administrator
陳耀棠先生
Mr. Tony Y.T. YIP
科學家 / 環保人士
Scientist / Environmentalist
SGS食品部門
SGS Food Services Department
副總監
Deputy Director
Corporate Logistics & Administration
麥鈞漢
Mr. MAK Kwan Hon
政府代表
Government Representative
環境保護署
廢物基建科
有機廢物基建組
Environmental Protection Department
Waste Infrastructure Division
Organic Waste Infrastructure Group
高級環境保護主任(有機廢物基建)4
Sr Env Protection Offr(Organic Waste Infrastructure)4
王灝雲
Mr. WONG Ho Wan
政府代表
Government Representative
漁農自然護理署
Agriculture, Fisheries and Conservation Department
農業主任(有機耕作)
Agricultural Officer (Organic Farming)
 
 
 
 
水產養殖小組 Aquaculture Standard Group
主席Chairperson
朱振華博士
Dr. Jim CHU Chun Wa
政府代表
Government Representative
漁農自然護理署
Agriculture, Fisheries and Conservation Department
高級漁業主任
Senior Fisheries Officer
委員Members
葉顯偉先生
Mr. Henry YIP Hin Wai
加工業及零售業
Handler / Processor
魚類統營處
Fish Marketing Organization
一級市場經理 (市場推廣)
Market Manager 1 (Market and Promotion)
劉兆強先生
Mr. Tobi LAU Shiu Keung
科學家 / 環保人士
Scientist / Environmentalist
世界自然基金會香港分會
WWF – Hong Kong
保育區主任
Senior Manager, HK Biodiversity and Conservation Policy
朱嘉濠博士
Dr. CHU Ka Hou
科學家 / 環保人士
Scientist / Environmentalist
香港中文大學生物系
Department of Biology, The Chinese University of Hong Kong
教授
Professor
黎來就先生
Mr. S.C. Loi Chau
水產養殖農民/生產者
Aquaculture Farmer / Grower
新界養魚協進會
Hong Kong New Territories Fish Culture Association
理事長
Chairman
 
 
 
 
投入物料小組 Input Manufacturing Standard Group
主席Chairperson
張浩博士
Dr. Allen Zhang
科學家 / 環保人士
Scientist / Environmentalist
香港高等教育科技學院 環境及設計學院 環境學系
助理教授
Associate Professor
委員Members
陳栢園先生
Mr. Edward CHAN PakYuen
農民/生產者
Farmer/Grower
先達農業科技顧問有限公司
Chintek Agro Consultant Limited
總經理
Managing Director
陳耀棠先生
Mr. Tony Y.T. CHAN
科學家 / 環保人士
Scientist / Environmentalist
SGS食品部門
SGS Food Services Department
副總監
Deputy Director
葉顯偉先生
Mr. Henry YIP Hin Wai
政府代表
Government Representative
魚類統營處
Fish Marketing Organization
一級市場經理 (市場推廣)
Market Manager 1 (Market and Promotion)
文佩兒女士
Ms. Emma MAN Pui Yi
農民/生產者
Farmer/ Grower
新界蔬菜產銷合作社有限責任聯合總社
Federation of Vegetables Marketing Co-operative Societies
行政經理
Executive Manager
王灝雲
Mr. WONG Ho Wan
政府代表
Government Representative
漁農自然護理署
Agriculture, Fisheries and Conservation Department
農業主任(有機耕作)
Agricultural Officer (Organic Farming)
維護公正機制委員會
Impartiality Committee
 Standard Board 
姓名Name
組別Category
機構Organization
職銜Position
委員Members
陳蕙儀女士
Ms. Christine W.Y. CHAN
消費者代表
Consumer Representative
賽馬會滘西洲公眾高爾夫球場有限公司
The Jockey Club Kau Sai Chau Public Golf Course Ltd. 
高爾夫球場主管
Golf Course Superintendent
王詩怡女士
Ms. WONG Sze Yi Cecily
職員
Staff
香港有機資源中心認證有限公司
Hong Kong Organic Resource Centre Certification Ltd.
助理行政經理
Assistant Centre Executive
中心職員
Centre Staff
黃煥忠教授 BBS MH JP
Prof. Jonathan W.C. WONG BBS MH JP
 
 
中心總監
Centre Director
Ms. Cecily S.Y. WONG
辦公室職員
Office staff
 
助理行政經理
Assistant Centre Executive
Ms. Wing W.Y. NG
辦公室職員
Office staff
 
高級認證主任
Senior Certification Officer
Mr. Andy K.L. CHEUNG
辦公室職員
Office staff
 
高級認證主任
Senior Certification Officer
Ms. Candas Y.W. CHAN
辦公室職員
Office staff
 
認證主任
Certification Officer
Ms. Crystal K.Y. CHO
辦公室職員
Office staff
 
項目主任
Project Officer
Ms. Mandy M.T. YU
辦公室職員
Office staff
 
項目主任
Project Officer
Mr. Sam K.C. LEE
辦公室職員
Office staff
 
項目主任
Project Officer
中心顧問
Centre Advisors
李建民先生
Mr. Allan K. M. LEE
 
亞洲市場拓展有限公司
Asia Marketing & Promotion Limited
中心市場顧問
Consultant
陳桂漢
Mr. Bucky K.W. CHAN
 
胡關李羅律師行
Woo Kwan Lee & Lo
中心義務法律顧問
Legal Advisor